Sliding picture inside pens

Sliding picture inside pens manufacture,exporter,wholesaler and supplier with stable quality, rapid delivery time and competitive prices to support your promotional business. Sliding picture inside pens can be very useful to travellers, new visitors to shopping mall, buildings, hotels. And you can print your promotional CI on the face side, while the detailed useful map printed on the other side. Thus, the pen is both very useful to the clients and excellent long-last advertisment for the business provider.
This marketing tool pens have many alternative names — called as banner pens, scroll pens, flag pens, pull out pens, roll out pens, flyer pens, brouchure pens, plumas con calendario, plumas banner, boligrafo con bandera, and even pen with slide out paper


Delivery door to door worldwide! Paypal and credit card accepted for small orders.

Our company has been a professional promotional gifts supplier, exporter and manufacturer since year 2006.
Already supplied many clients within USA, Canada, Euro, Mexico, South Africa, and so on! We have reference clients from almost all economic active regions and areas! Click the menu "CLIENTS" to find our reference clients!

To leann more about ordering process and our service click the memu "FAQs".
Those personalized Flag Sliding picture inside pens are Perfect for Receptions,Rehearsal Dinners, Bridal Showers, Save-the-Date, Gift Baskets…
and More!
Just send us your artwork or image, we will delivery the goods to your door in 4 weeks.
Artwork requirements:
Max Print size: 180*68mm (that's the visible size on finished products, your artwork shall be 5-10mm larger for backgroud bleeding)
Artwork Format: .ai or PDF or any high quality image
We also offer artwork design service, you add Sliding picture inside pens artwork design service order here
We've been professional Chinese manufacturer and direct seller of Sliding picture inside pens for years. We've helped many companies to enhance their promotional program, distinguishing political candidates by giving away this unique and useful Sliding picture inside pens to public. Supplement your banner stand displays with the perfect trade show promotional giveaway. Message pens!
Our innovative retractable banner message pens leave a long-lasting impression on potential customers. Print your logo, company information and special offers on our personalized message pens! With message pens from Post-Up stand, your customers will take your brand with them everywhere they go. Find the perfect ones for your message today.
Display your message inside a Roll out banner pen!
Message Size 180*68MM – Retracts Into The Pen
Choose from Single or Double-Sided
Barrel colors: Blue, Black,White, Red, Purple, Green, Blue, Orange, Yellow and more.
Ink colors: Blue or Black
Full Color Banner Message Promotional Pens
Minimum Order Quantity – 500
Call for a quote for larger quantity
View the FAQs for more information
Sliding picture inside pens contain a spring loaded, laminated paper banner which self-retracts inside the barrel of the pen.
Print your own message in colour on both sides of the scroll out banner.
Unlike traditional giveaways that people swiftly forget about, the promotional brochure pen is something that will keep on selling, informing and educating your prospects for months.
Each time they pull out the flag to show colleagues and friends, relevant information about your business, products or services will be displayed. Remember it is hard today to find a promotional product that really catches peoples attention but also has a useful function.
Importantly the flag Pen is an inexpensive option compared to many other promotional pens.
So often companies spend money on giveaways that have no useful application. The Flag Pen is a product that will give you a good return on your promotional dollars. When marketing budgets are tight these pens, at around one dollar, are excellent value.
IDEAL FOR:
YOU GET:

• Trade Shows
• New Product Roll-Outs
• Souvenir Item
• Team Schedules
• Pharmaceutical
• Maps
• Events & Concerts
• Technical Information
• Quick Reference Guide
• Self Promotion
• Corporate
• Banking
• Political Election Campain

• Full color offset printing – front & back
• Laminated scroll banner
• High gloss stock
• Quality spring mechanism
• Choice of blue or black ink
• The latest modern styles
• A Refillable smooth handwriting ballpoint pen
• Durability – built to last!
• Quality spring mechanism
~ FREE Shipping and NO Setup Charges ~

Why choose us?

Prompt, friendly & reliable customer service
Unique, novel & effective promotional products
Knowledgeable, experienced staff
Deal with one person from start to finish
Fast response times to emails & calls
Smooth, refined ordering system
Credit account available on application
VISA, MasterCard, Paypal, T/T * (Credit Card payment via paypal)

Why Flag pens?

Scroll Banner Pens / flag pens are a novel idea that will make your next promotion unique, effective & fun. The simple scrolling design of the banner pen has an instant attraction to all who comes in conact with them. Add your choice of plastic pen colours and you've got a perfect match to your corprate look & style.
Scroll Banner Pens are available in a range of quantities and styles. Check all scroll out flag pen sytles here.
Scroll Banner Pens are also known as info pens, banner pens, scroll pens, flag pens, billboard pens, scroll banner pens, and are most often refered to as pull out pens.
Choose your favorite grip color: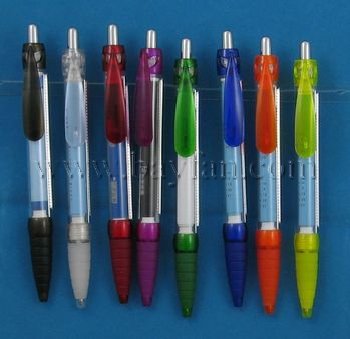 15-days Urgent Orders Plan for Sliding picture inside pens
As most of the small quantity promotional gifts are for a certain comming event. Thus many orders need quick production and swift delivery. We launch the 15-days Urgent Orders Plan to enhance your events!
1. Delivery time. 15 days means time between the day we received your payment and the day the goods reach your door. And everything listed in following confirmations before production must be confirmed before 15 days start counts.
2. Price. Normally there will be 20% extra based on our open price list. Check price here. But need our further confirmation for specific region.
3. Express freight. Already included in open price list.
4. Payment Terms. T/T in advance. Usually there will be 2 business days for us to receive payment from main big USA and Euro banks. And 2-5 business days from South America and Africa. So make sure you made payment 2-3/2-5 business days before 15 days counts. And make sure use SWIFT. We can also accept paypal for small orders to speed up payment.
Part II: Order quantity less than 10,000pcs (exclude 10,000pcs)
1. Barrel color. Choose at: http://flagpenx.com/Scroll-Banner-Pens-HSBANNER-9_COLOR
Customized color for barrel is not workable for quantity less than 10,000pcs.
If not HSBANNER-9. Check all Sliding picture inside pens models here
2. Ink color. Black or blue?
3. No logos on clip or barrel. This is to fasten production. As the barrel is transparent logo on paper banner will show clearly even the banner is not slided out.
4. Which one is the face side of your artwork. If your artwork printed on paper banner is vertical, specify which side is close to pen barrel when the paper banner is pull out.
5. Your detailed address to deliver scroll pens to. Post code, Telephone number, contact person.
(Price as low as USD0.4/pc, and free shipping to your door!) *1
For HSBANNER-9:
Sliding picture inside pens Order link for 500+ for USA, West Euro, Australia clients
Sliding picture inside pens Order link for small quantity 100 – 500 pcs for North America, West Euro, Australia clients
Sliding picture inside pens Order link for 500+ for clients from Africa, South America,East Euro, Mid East
*1 based on certain quantity and delivery location. See details by clicking above order link.