Custom Massage Tools as Promotional Item
custom logo imprint body massagers
Promotional love shape massager tool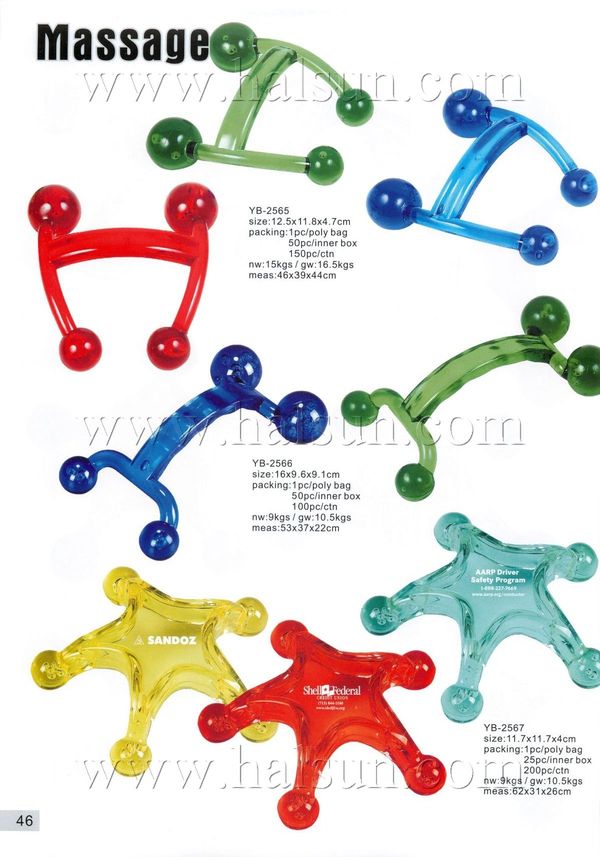 promotional handheld body massagers
Why choose printed massage tools for advertising your brand?
After a long day at work, nothing helps clients and employees relax more than a good massage. Muscles and connective tissues are soothed through simple massage techniques that ease tension and promote well-being. Now, they can all loosen up with custom massage tools that your business or organization will provide. With your brand on every imprinted massage tool, everyone will associate you with only the best and most relaxing activities in their lives. We have a wide selection of promotional massage tools with logo so you'll definitely find one that's perfect for you, whether simple rollers or novelty shaped ones. We also have them in several different colors, so you can choose the one that will complement your company's signature colors or existing theme or motif best.
You might also like: Custom Table Covers, Custom Tank Tops, Promotional Tape Measures
Are you excited to call these custom bulk massage tools your own? We have so many types for you to choose from, so that your next gift giving or giveaway campaign will fit your marketing goals perfectly. We have simple varieties made of acrylic material that are perfect for massaging sore legs and arms We also have those made from wood for a more rustic feel that would be perfect for eco-friendly campaigns. Best of all, we have customized massage tools shaped like animals to appeal to kids and adults alike. These merchandise are guaranteed to be the best promotional products for your company! 
Our custom massage tools are perfect for general hospitals, specialty clinics, pharmacies, and pharmaceutical companies, as well as dermatologist clinics, beauty salons, recreational spas, nail salons, beauty salons, and lifestyle events. But they are also favored by recreational facilities, fitness centers, sporting events, summer camps, golf clubs and associations, golf tournaments, and sporting goods stores. Furthermore, department stores, retail shops, boutiques, concessionaires, specialty shops, and gift shops can also include these with any purchase! There is no limit to where these personalized massage tools with logo can be used!
We also recommend: Custom Bottles, Custom Bottle Openers, Custom Bottled Water
Your next tradeshow event or product launch is definitely going to be one of a kind. You don't even have to worry about going over your budget. Each customizable promo item comes at the most affordable price in the market. Plus, our customized massage tools feature a highly strategic imprint area that will showcase your logo or brand for maximum brand visibility. We'll help you personalize your items exactly how you want them. Prepare the logo, symbol, text, insignia, or artwork you want to use, and choose the imprint color you want for your graphics and font, and we'll get the rest done for you.