coin banks, piggy banks, coin containers, promotional coin banks, Prom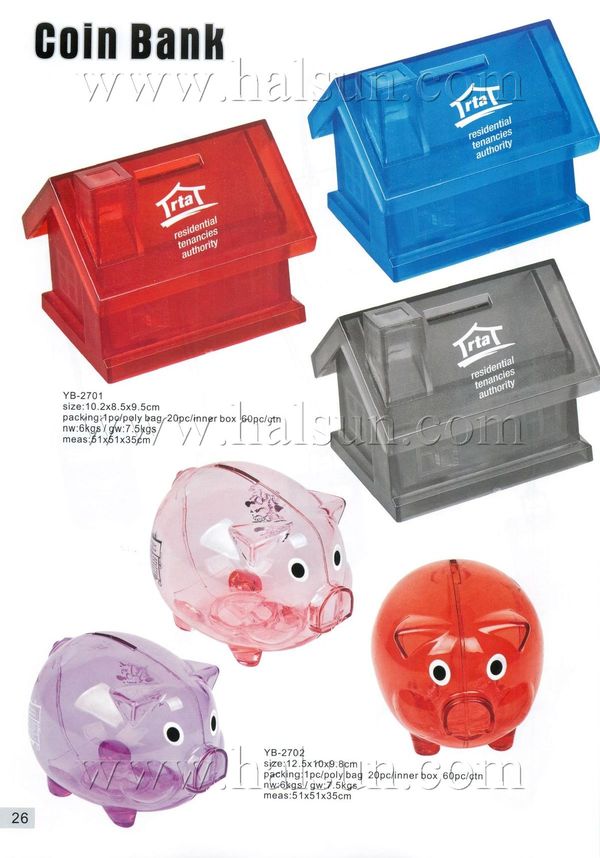 A promotional piggy bank can be a great idea for advertising banks, financial companies, offices, factories, and toy stores. The Executive Advertising has a number of customized logoed piggy banks that can be used for branding. The promotional piggy bank has a removable bottom plug for retrieval of coins. You can get the custom piggy banks in solid colors of pink or white, or chose from clear translucent, translucent green, or translucent blue piggy banks look quite endearing. One free color logo imprint and free artwork eproof is available for customized banks. No set up fees are charged. We provide a free 24 hour rush service on the promotional piggy banks.
Choose a customized Halsun large piggy bank as a promotional coin bank for your business. The translucent plastic piggy bank is big in size and comes in several colors like yellow, red, blue, green, clear, and smoke. We screen print your company logo on one side of the piggy bank. You can opt for more than one imprint location. Multi-colored imprints up to three colors can be done for a small charge. The imprinted piggy banks can be ordered with a free 24 hour rush service.
The custom Payday piggy banks are exceptional promotional coin banks The customized piggy bank has a removable nose so that customers can take out the coins. You will get screen imprinted piggy banks in blue or pink. Free 24 hour rush service is available on the promotional piggy bank. The original custom piggy banks are available in pink color. The customized piggy bank is made of rubber and has a slot for inserting money. There is a bottom disk which can be removed to take out the coins. The size of the piggy bank is 5″L x 4″W x 3 1/2″H and has an imprint area of 1 1/4″W x 1/2″H.
The branded pig tail piggy banks are fun to have promotional coin banks. Customers can drop their change in the top slot and watch in awe as the tail moves while the money gets deposited. There is a bottom plug which can be easily twisted so that the coins are released. The design of the customized piggy bank is sturdy and the size is ideal. Customers can conveniently place the company logo imprinted piggy banks on office desks, small tables, or anywhere that suits their preference. The adorable promo piggy banks come in various colors like black, blue, green, orange, pink, purple, red, salsa, white, yellow, etc.
You can buy different kinds of promotional coin banks like the custom smiley coin bank or the basketball coin bank. The promotional smiley coin bank is plastic, translucent colored with a smiley round face. There is a top money slot and a bottom removable cap to take in and take out the coins respectively. It can be the ultimate gift for promoting personal savings, credit, insurance, cost cutting programs, and many more advertising campaigns. We will do a free one color imprint on the back of the promotional coin bank. The plastic home shaped promotional coin banks can work well with lending companies, banks, and finance companies. We can do multi-colored imprint in two colors.